Characteristics: parachute effect always guarantees an upright position on descend into the fish tank. High Tech Ceramic Membrane for the finest oxygen bubbles also at low pressure. Every Diffuser is tested 100% and marked with a unique identification number. Airlift principle transports poorly oxygenated water fram the bottom of the tank upwards and thereby enriches it with oxygen.
Most popular related searches
Aluminium oxide ceramic membrane with stainless steel fittings and UV resistant resin body
Flow Rate with 200cm2 of ±1.5 I/min at 150kPa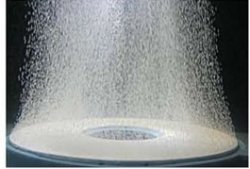 In addition to the patented donut design standard ECD200 stationary diffuser, we also provide an ECD200 transport diffuser. This product is designed with additional weight and suction cups, securing it in position during turbulent conditions.