From Biogas Digester Submersible Motors
This powerful ATEX certified submersible mixer (4.0, 9.0 or 15 kW) now offers even more possibilities to achieve optimal gas flow and mixing results in your biogas digester.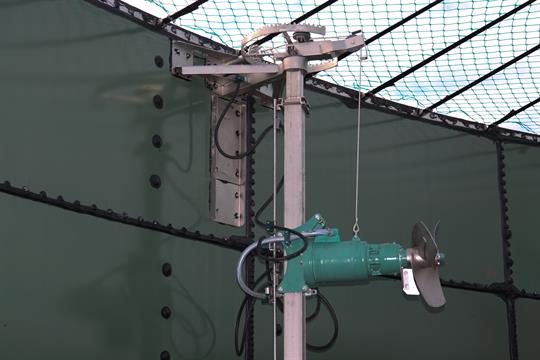 The fluidically optimized submersible motor Optimix 2G is available with 4 / 9 and 15 kW and different rotational speed of the propeller.
Because of the unique SUMA modular design differend motor performances, gears, propeller and mast sizes can be combined for an appropriate biogas agitator for the customer.
The SUMA-guide mast support with 4 rollers and POM-slide rails guarantee a perfect sliding on the mast and furthermore a galvanical isolation between the mast and the biogas mixer. The 3 seperated oil chambers for motor, gear and bearing housing ensure a proper stirring. Longlife oil with a longer oil changing interval is used for the gear and the bearing housing. The sealing is made through the mechanical seal SiC/SiC within the bearing housing. There are delta-star-operating-switches for a manually operation or time-controlled SUMA-soft start control available. All agitators can be managed over an external frequency converter.
Streamlined:
Better heat dissipation and range of application in substrates with 60°C
Application interface:
Mixer mounting brackets for guide masts 80 - 150 mm square tubing
Galvanic separation:
By plastic strips and guide rollers, there are no materials in contact which could lead to galvanic corrosion
Proprietary power cable guide:
Electrical cables are guided with cable clips behind the mast of the mixer suspension frame. The power cable cannot become entangled in the propeller or itself, assuring safe agitation.
Propeller:
Dynamically balanced propellers with three blades assure smooth operation. Different materials as needed for the substrate galvanized, stainless or hardened steel propellers are available.
Coating:
The standard coating used for non stainless steel mixers is a ceramic filled epoxy.
Low maintenance:
Small maintenance intervals - the propeller bearings have an operating life of up to 60,000 operating hours