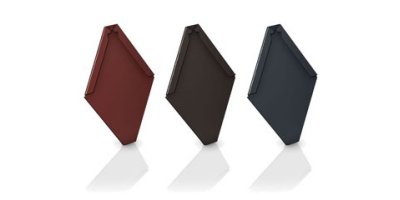 BOEHME

- Rombus Shaped Metal Shingle
From Classic Shingle
Rombus-shaped metal shingle with framing seam. Your roof or facade area will receive an elegant small-format structure with the BOEHME SYSTEMS Classic Shingle Type Diamond.
Most popular related searches
Fastening with the BOEHME SYSTEMS single-adhesion procedure on closed top side. Additionally, the fully closed top side prevents water permeation even under high wind pressure.
Additional: The regulations for carrying out roofing work on roofs and facades (roofing trade regulations) must be applied when calculating the dimensions of the building components and determining the number of fastening clips.
Diamond S
Height: 302 mm (visible area)
Width: 210 mm (visible area)
Thickness: 0.7 mm
Quantity: 26.74 Item/m²
Weigth: 3.5 kg/m² (Alu)
Materials: Aluminium (Standard), Steel, Zinc, Copper, Stainless steel
Installation: According to DIN or BOEHME SYSTEMS Installation Guidelines
Diamond M
Height: 450 mm (visible area)
Width: 298 mm (visible area)
Thickness: 0.7 mm
Quantity: 13.23 Item/m²
Weigth: 3.4 kg/m² (Alu)
Materials: Aluminium (Standard), Steel, Zinc, Copper, Stainless steel
Installation: According to DIN or BOEHME SYSTEMS Installation Guidelines
Diamond L
Height: 685 mm (visible area)
Width: 428 mm (visible area)
Thickness: 0.7 mm
Quantity: 6.26 Item/m²
Weigth: 3.3 kg/m² (Alu)
Materials: Aluminium (Standard), Steel, Zinc, Copper, Stainless steel
Installation: According to DIN or BOEHME SYSTEMS Installation Guidelines
Diamond Vario
Height: Upon request
Width: Upon request
Thickness: Upon request
Quantity: Upon request
Weigth: Upon request
Materials: Aluminium (Standard), Steel, Zinc, Copper, Stainless steel
Installation: According to DIN or BOEHME SYSTEMS Installation Guidelines