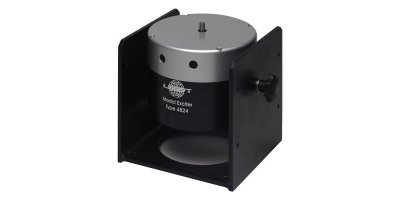 From Shakers and Exciters - Modal Exciters
With a force rating of 100 N (sine), Modal Exciter Type 4824 is ideal for high-precision excitation of a variety of mechanical components in SISO and SIMO test setups on automotive sub-structures, small engines, powertrain and drive train components. Also ideal for demanding and uncompromised excitation of large and very large structures in MISO andMIMO test setups. Modal Exciter Type 4824 is available as a stand-alone unit - supplied only with the appropriate trunnion and connecting cable - or as a complete system, with matching power amplifier and standard set of cables.
Most popular related searches
General mechanical mobility measurements
Experimental modal analysis on most mechanical structures
SISO, MISO, SIMO and MIMO modal test applications
Advanced structural dynamics investigations
Structural damage detection
Finite element model correlation
Force rating 100 N sine
Wide frequency range
Low stray magnetic field
High force-to-weight ratio due to rare-earth magnet technology
One inch peak-to-peak displacement for best low frequency excitation
Through-hole design for choice of tension wire stingers or traditional stingers
Low-weight construction providing easy positioning/orientation relative to test object
Requiring no forced air cooling, and based on unique rare-earth neodymium magnet technology, Modal Exciter Type 4824 features extremely small physical dimensions relative to the force rating along with low total weight and a low-mass, high-rigidity, spring-suspended armature.

The low armature weight helps to ensure high-quality force measurements by minimising force drop-offs at the test specimen's resonance frequencies. Four upper radial flexures and four lower radial flexures, the latter providing an additional guide for best stabilisation, form a strong rectilinear guidance system which keeps the driver coil perfectly centered in the magnetic assembly's air gap. In the transverse directions and in torsion, the flexure system provides very high stiffness to counteract rotational movement of the test specimen. Also, through this configuration, the modal exciter can absorb high lateral forces without damage to the exciter's internal construction.

The 'hole-through' design makes it possible to use tension wire stingers or traditional push/pull stingers with the exciter. Easy and fast attachment of both types of stingers is achieved with the chuck nut assembly (for use with tension wire stingers) or with an M6 to 10–32 UNF threaded insert (for use with push/pull stingers).