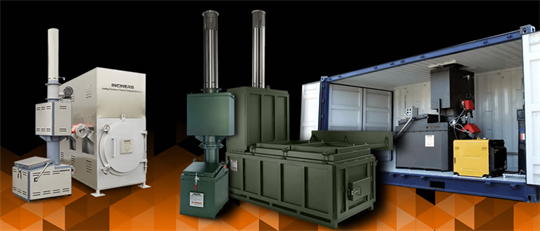 From Pollution Control Systems - Others
We can provide a range of accredited, portable or continuous emissions monitoring systems which satisfy both operator and regulatory requirements including the waste incineration directive (WID), large combustion plant directive (LCPD) and the newer industrial emissions directive (IED). These systems are currently operational in a number of key industries including hazardous, clinical, and animal waste incineration.
For emission testing and combustion analysis.
Whether you are testing for compliance, or troubleshooting and tuning your combustion process, our CEMS systems have everything you need. Their ultra-rugged construction, coupled with a simple intuitive operation, and innovative measurement technology, set the standard in emission testing and combustion analysis.
Industrial incinerators and burners have their own unique characteristics. When an unexpectedly high CO is detected, the testo 350 will automatically adjust to the situation, keeping the sensor protected at all times. Don't worry about climbing and removing the probe from the stack, just hit the fresh air button to purge the sensor for longer life. The measurements of O2, CO, NO and SO2, combined with automatic calculations (CO2, efficiency, excess air), provide fast tuning solutions. The 350's compact design is better for working on a platform or small space. The automatic zero pressure measurement is ideal to monitor flow or draft induction. With a pilot tube you can quickly measure velocity.