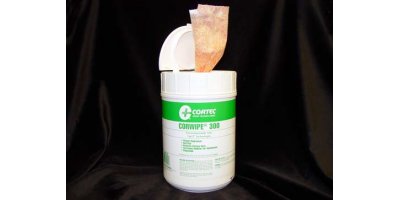 From Rust Removers
Corwipe 300 is a revolutionary wipe which removes grease, oil and light corrosion deposits while leaving behind a thin film of corrosion inhibitors. Corwipe 300 is designed for both industrial and commercial cleaning applications. It cleans machinery equipment, machine shop tools, hoods, parts in process, food processing equipment, office equipment, etc.
Corwipe 300 contains an active water-based material that is safe to handle, is not harmful to skin and is classified as non-hazardous. Corwipe 300's thin film of corrosion inhibitors will protect most metal surfaces against corrosion.
Reduces need for multiple cleaners
Provides excellent cleaning action at ambient temperatures
Leaves temporary protective film, providing anti-corrosion protection for up to several months indoors
Non-hazardous, non-corrosive, and non-flammable
Not harmful to the atmosphere
Pleasant citrus aroma
Reduces chemical consumption and costs
Results in fewer spills that occur with traditional cleaners
Increases productivity
Provides triple-action performance: degreases, removes light rust and leaves a thin film of corrosion inhibitors.
Metals Protected*
Carbon steel
Stainless steel
Copper and its alloys
Aluminum and its alloys
* Length of protection varies upon conditions, average 3-4 months.
Corwipe 300 is designed to clean, protect and maintain products, components or assemblies such as:
Slightly rusted or tarnished parts
Tools
Machinery, pumps, controls, connections or engines contaminated with grease or oil deposits
Machined parts coated with waxes or greases prior to assembly
Sheets of metal covered with oily or waxy films prior to painting
Office equipment, floors, walls, and restrooms
Gym equipment
Stainless counter tops, handrails, fountains