Primary use is for acid storage tanks to eliminate fume during deliveries and remove fume on day-to-day operations. Individual models are designed to scrub out fume caused by pump delivery and air pad discharge. We manufacture both water spray scrubbers and caustic recirculation scrubbers in instances when customers wish to neutralise the waste acid.
Most popular related searches
Connection
Units can be supplied either freestanding or on top of the storage tank.

Location
Designed to operate either indoor or outdoor situations.

Packings
These will be selected to offer maximum efficiency coupled with appropriate chemical resistance.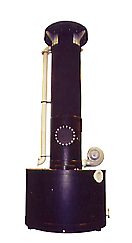 Standard Range
Models designed from 6 through to 200, denoting the volume of water per hour treated in cubic metres.

Design
Based on a minimum inlet pressure of 1 bar G units reduce C02 content from 200 ppm to 5 ppm.

Detail
Self-standing units with sump tank requiring only connection to water and electricity.

Use
Model selected should operate only at the top of the capacity indicated for maximum efficiency.