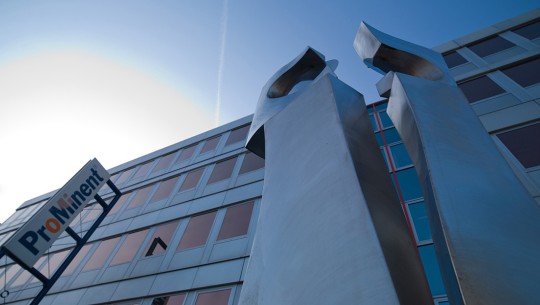 Transparency in water analysis in the Dialog controller for up to 16 x 10 measuring points.
The DULCOMARIN® II measuring and control system manages your entire swimming pool and your hot tub. From water treatment to filter control, pool cover, attractions, water heating, solar control, pool and external lighting. System information and messages are clearly and graphically visualised on the coloured display. At the same time, the information can also be transmitted via the internet to a tablet PC or smartphone. Coupling to a building bus is simply possible via KNX, PROFIBUS®-DP, Modbus RTU or OPC. Based on the modern bus technology DULCO®-NET, the system is capable of growing to meet requirements and can be extended at any time. It can be used in high-end private pools, school swimming pools, hotel swimming pools or in public themed baths. Depending on requirements, a potable water treatment system or legionella prevention system can also be integrated. The integrated SoftPLC enables almost all customer requirements to be met. The DISINFECTION Controller design can be used for general water treatment tasks.
Your benefits
Visualisation made simple: with the embedded web server and a standard web browser.
Simple connection to your PC or PC network or the internet via a LAN interface.
Operation via Apple® iPod, iPad (WLAN access point necessary).
Control of up to 16 sub-systems, each with 10 measuring parameters, in potable water systems or filter circuits in swimming pools or with general water treatment tasks.
Customer-specific adjustments are possible: A SoftPLC conforming to IEC 61131 also enables customer-specific process control to be integrated in addition to integral processing.
View current and historical measured data directly on the controller: the integral data logger with screen plotter permits this.
Measurement and control of the hygiene parameters in swimming pools
Monitoring of the water parameters in potable waterworks
Monitoring of the chlorine dioxide concentration in systems for legionella control and prevention, for example in schools, hotels or hospitals
Technical Details
Measured variables: pH, ORP, free chlorine, total chlorine, combined chlorine, bromine, chlorine dioxide, chlorite anion and temperature
Precision: 0.5 % of the upper measuring range value
Control characteristic: P/PI/PID control
Digital inputs: 5 potential-free inputs
Signal current output: 4 x 0/4-20 mA
Interfaces: LAN, SD expansion slot