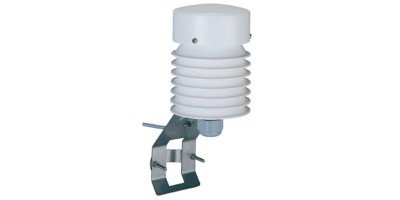 Gealog Radiation Shields for Air Humidity/AirTemperature Sensor Ventilated
From Infrastructure for Weatherstations
The especially designed lamella guarantee optimal sunshine protection also on deep solar altitude or ground reflections. The fan of the ventilated version has a pulse output for monitoring the fan rotation speed.
Radiation and precipitation can falsify measurement data to an unacceptable extent if the temperature sensors and humidity sensors are inadequately protected or perhaps not protected at all. Moreover, the use of unprotected temperature and humidity sensors increases the risk of mechanical damage. The use of this radiation shield in an appropriate combination with suitable temperature and humidity sensors reduces to a minimum the possibility of radiation, precipitation or damage influencing the data in a negative manner. The ventilation reduces those errors which might occur during the measurements in a weather hut caused by the so-called "proper climate" Owing to its outstanding technical properties as well as the compact form of construction, the 'Radiation Shield for Air Humidity/Air Temperature Sensor Vetilated' is predestined for use in professional measurement.

The white UV-proof lamella prevent direct and reflected radiation from striking the sensor. Due to the appropriate geometric arrangement of the lamella, the flow of air around the sensors is hardly affected. The lamella material exhibits very good reflective properties, low heat conductivity and excellent weather-resistance. By the ventilator the air is drawn in on the base of the radiation shield, is then run past the sensor with the necessary flow velocity and is emitted again beneath the cover.
Sensor adapter
Sensor adapter for installation of:

Gealog NTC Air Temperature Sensor
Air Humidity/Air Temperature Sensor Hygroclip

Both sensors can be installed simultaneously
Wiring
The radiation shield comes with a 5 meters cable of type:

Cable PVC 2*0.5
Please specify other cable length on order, delivery with loose ends
2 stranded wires
Color code acc. DIN 47100
Wire gage: 0.5 mm2
Wire resistance: 39 Ohms per km
Outer diameter: app. 6 mm

Teminal/wire assignment