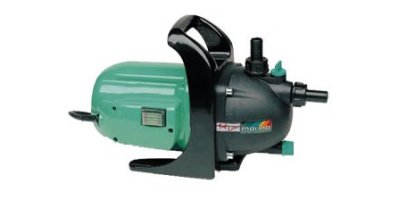 From Water Butt Pump
The ideal pump when your rain water harvesting tank has limited access and installing a submersible pump is not a pratical solution. The pump can work at 4 bar pressure and will be good for watering the garden and also the light pressure washing jobs. The pump can be installed on top of the tank and if you install the suction strainer just off the bottom of the tank the pump will draw clean water without any of the silt from the bottom of the tank.
Most popular related searches
The KS801 is a portable, single stage, self-priming 'jet' pump with a thermoplastic body, venturi and impeller. The stainless steel shaft is fitted with a carbon ceramic and NBR mechanical seal. The IP44 motor has water resistant rocker switch and has overload protection. It is designed for pumping clean water only, at a maximum temperature of 35ºC. It should not be allowed to run dry, but by fitting an optional pressure controller it can be protected from this and also start and stop automatically. Maximum recommended suction lift, when primed, is 8 metres. For best results we recommend that a foot-valve and strainer should be fitted to the end of the suction hose. This is included with our 4 metre and 7 metre suction kits. These are available as an optional extra and include a pump coupling which is factory fitted to the hose for a vital, airtight connection. Fitted as standard with a carrying handle and a 2 metre rubber power lead. This pump is ideal for transfer and irrigation duties in domestic and light industrial applications.
Inlet (BSPM) – 1"
Outlet (BSPM) – 1"
kW – 0.60
Volt – 230
Flow (l/min) – 58
Head (mtrs) – 42
W x l x h (mm) – 235 x 385 x 290
Dry weight (kgs) – 7.50
Packing weight (kgs) – 7.65