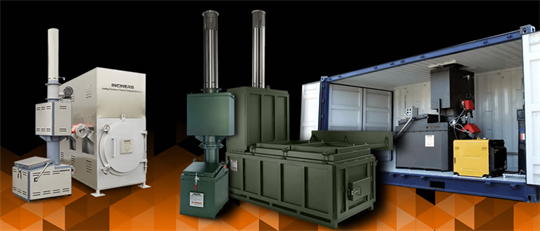 From Incinerators - Waste Incinerator Range
I8-55G model, a great investment, is a mid range incinerator. Proving you with controlled air incinerator and optimal combustion conditions for different waste types.This top loader is the perfect choice if you need liquid retention making this incinerator ideal for incineration of most types of waste. This unit benefits from a secondary chamber with afterburner for the re-burn of harmful emissions with a 2 second retention time.
Military Operations
Remote Housing
Boarding Schools
Industrial Waste less than 500kg day
less than 150 People Communities
Combustion Chamber Volume (m3): 0.54m3
Burn Rate*: 30-90kg per hour
Average Fuel Consumption: 13 kg per hour
Operational Temperature: 850 - 1320°C
Gas Retention in Secondary Chamber: 2 secs
Temperature Monitoring: Yes
Average ash residue (%): 3%
Thermostatic Device: Yes
External Length (mm): 1520mm
External Width (mm): 920mm
External Height (mm): 4480mm
Shipping Weight: 2100kg
* - The burn rates provided are to be used as a guide. We have based these figures on test burns using Medical Waste (lowest burn rate) to Cat. A&B Wood (Maximum Burn rate). Burn rates are also dependent on the calorific value of waste, fuel quality and local atmospheric conditions.