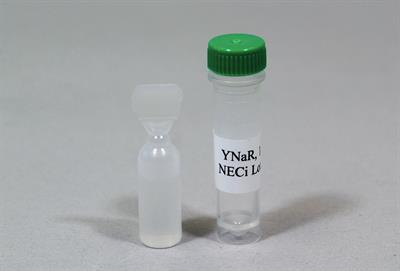 NECi

- Model YNaR - Nitrate Reductase
From NECi - Enzymes and Reagent Packs-Nitrate
Superior Stock YNaR For Your Laboratory. Recombinant Yeast NAD(P)H Nitrate Reductase (YNaR-1). For analysis run between 2 – 30°C.  Highly stable in working solution. Shelf-life of up to 6 months at room temperature. Highest Specific Activity YNaR-1 on the market. Utilizes NADH as the electron donor to drive nitrate reduction. Small sample size in relation to total assay volume. Little sample preparation required. High specificity reduces false positives. Partially inhibited by NaCl and Organic Acids and Humics, use AtNaR for these conditions. YNaR is available in the following quantities: 1.0 unit affinity-purified enzyme per vial 2.0 unit affinity-purified enzyme per vial 3.0 unit affinity-purified enzyme per vial 5.0 unit affinity-purified enzyme per vial Product Specifications: Physical Form: Freeze-dried protein glass Method of Protein Determination: Bio-Rad protein assay Source: Pichia Pastoris Specific Activity: 20 - 40 units/mg protein
Product Specifications:
Physical Form: Freeze-dried protein glass
Method of Protein Determination: Bio-Rad protein assay
Source: Pichia Pastoris
Specific Activity: 20 - 40 units/mg protein
For more information, please view the Specification sheet
YNaR-1 is available in 1.0, 2.0, 3.0, and 5.0 unit affinity-purified enzyme per vial
One unit reduces 1 micromol nitrate/minute @ 25°C. Supplied Freeze-dried with Enzyme Diluent Bulb.
Custom unit sizes available by request.
Animal Origin Free. Fast and Economical Shipping.
Call (1-888-NITRATE or 1-888-648-7283) for bulk and repeat order discount prices.
For inquiries regarding orders, contact sales@nitrate.com
For technical support, contact tech@nitrate.com
Questions? Call 1-888-NITRATE or 1-888-648-7283