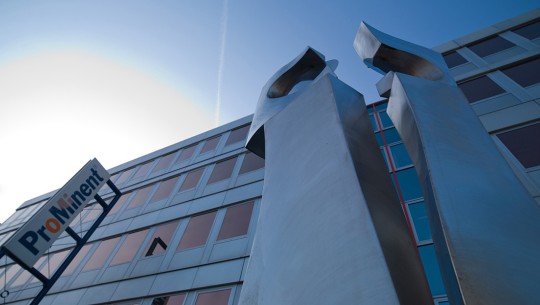 From Disinfection Systems and Oxidation Systems - Chlorine Dioxide Systems
5-200 g/h chlorine dioxide. Max. flow at 0.2 ppm ClO2 metering is 1,000 m3/h. Chlorine dioxide system, which continuously produces ClO2 according to the acid/chlorite method with diluted chemicals. Extremely simple operation, clear construction, analogue control, manual control or via contacts.
Bello Zon CDEb is winning over customers, thanks to its ultra-simple operation and clearly laid out construction.
A ready-to-use chlorine dioxide system for the continuous production and metering of chlorine dioxide with diluted chemicals. The emphasis is on ultra-simple operation and clearly laid out system design with standard components.
The stroke lengths of the metering pumps are continuously monitored. This rules out inadmissible operating statuses arising from incorrect pump stroke length adjustments.
The system is extremely easy to operate and, alongside a central Start-Stop key, also has colour-differentiated LEDs to display all the operating statuses.
The system can be controlled in an analogue or manual manner or via contacts
Your Benefits
Minimal training required thanks to extremely simple operation
Minimal investment costs
Short delivery times
Excellent operating safety
Simple process integration
Location-independent system monitoring in real time via the DULCOnneX platform: Improved process reliability. Reliability and transparency due to real-time monitoring, individual alarms and automated reports.
Municipal potable water and waste water treatment
Industrial process and cooling water
Disinfection in the food and beverage industry
Technical details
Power supply
Inputs
1 digital input for the Pause function
1 digital input for contact water meter 0.25-20 Hz
1 analogue input 0/4-20mA
Outputs
1 alarm signal relay
1 warning signal relay
Operating substances
Sodium chlorite 7.5%, purity according to EN 938
Hydrochloric acid 9% purity according to EN 939
Particle-free water
Degree of protection
Bypass pipework