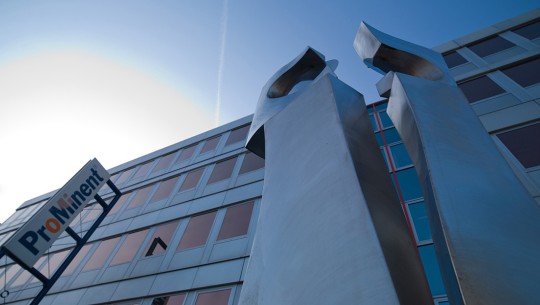 Chemical-free disinfection of production water for the food and beverage industry
Pioneering water treatment – highly efficient UV system Dulcodes LP F&B with Vario-Flux lamp and dynamic lamp heating. The reduced number of lamps and minimal use of energy deliver maximum efficiency and minimal operating costs.
Optimised flow in the radiation changes results in an even dose of radiation across the entire volumetric flow. At the same time the pressure loss is kept minimal.
The Dulcodes LP F&B is the first UV system to be quickly and precisely controllable over a wide temperature range. It automatically adapts to changing flows or changes of water temperature.
Your benefits
Efficient, safe and chemical-free disinfection of product water in the food and beverage industry
Hygienic design without gaps and dead space, tri-clamp connectors, surface roughness Ra
Adapted disinfection with varying flows and water temperatures
Increased flow output with a minimum number of lamps and minimum pressure loss
Reduced operating costs due to the long service life of Vario-Flux high-output lamps with low energy consumption and high UV output
User-friendly and intuitive control for the display of operating statuses and adjustment of operating parameters
Food and beverage production
Technical Details
Comprehensively certified to internationally recognised DVGW / ÖNORM / SVGW / ACS / EPA-UVDGM standards.
The unique combination of electronic ballast technology and the Vario-Flux lamps enables the system to be quickly and precisely dimmed over a broad capacity range of up to 50%.
Stainless steel control cabinet with degree of protection IP 66.
Suitable for integration into CIP (cleaning in place) circuits.
High-grade stainless steel 1.4404/AISI316L reactor hydraulically optimised by means of computer simulation.
High-output amalgam lamp 'Vario-Flux' with dynamic lamp heating.
Guaranteed lamp service life of 14,000 operating hours (pro rata).
Electronic ballasts for the gentle ignition, operation and individual monitoring and control of the lamps.
DVGW/ÖVGW UVC sensor 160° opening angle, highly selective and age-stable, integrated in the measuring window.
Various options for simple integration of the system in higher-level control systems thanks to many analogue and digital interfaces and connectors
Data logger: all relevant operating data and ell events are saved on the SD card and can simply and conveniently be visualised with an analysis programme.
DULCOnnect module enables simple remote monitoring and remote control of the system by means of web-based access via LAN/Wi-Fi interface. The current system status can be displayed at any time on a terminal unit.