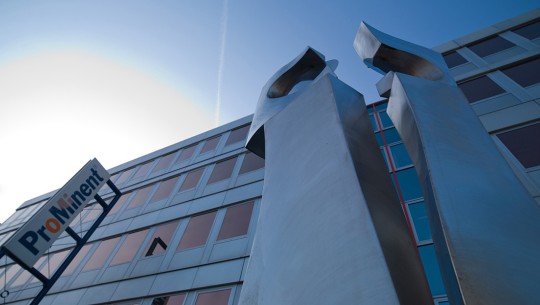 From Disinfection Systems and Oxidation Systems - UV Systems
Flow up to 230 m3/h. UV system Dulcodes Z for potable water treatment. Chemical-free disinfection, which conforms to all internationally established DVGW, ÖVGW and UVDGM standards. High-performance and energy-efficient high-output lamps.
UV system Dulcodes Z is equipped with energy-efficient Opti-Flux high performance lamps, incorporated in optimised reactors. The effectiveness of the disinfection necessary for certification was proved in comprehensive biodosimetric measurements. Dulcodes Z thus facilitates maximum possible disinfection and flow performance with a minimum number of lamps. The long-term stable, DVGW-compliant UVC sensor, in conjunction with the central control, ensures optimum continuous operating reliability in potable water treatment.
DVGW and ÖVGW-certified, EPA and UVDGM-compliant
Flexible use over a wide transmission and flow range by extended DVGW characteristic line certification.
Minimum use of resources at maximum flow, thanks to uniform irradiation and homogeneous UV dosage with optimised flow guidance.
DVGW-compliant, long-term stable UVC sensor for monitoring the disinfection capacity, contamination of the lamp protection tubes, lamp ageing and water transmission.
Increased output with fewer lamps.
Energy-efficient high-performance Opti-Flux 300 W lamps permit greater flow per lamp.
Hydraulically optimised reactor made of high-grade stainless steel 1.4404/AISI316L
High-performance, energy-efficient Opti-Flux (300 W) low pressure amalgam lamp, largely temperature-independent
14,000 lamp service life guaranteed (pro rata)
Long-term stable DVGW UVC sensor for continuous system monitoring, factory-calibrated and verifiable on site by means of reference radiometer which conforms to the DVGW/ÖVGW specification
Control cabinet made of coated steel
Electronic ballasts with BUS interface for the gentle ignition, operation and individual monitoring of the lamps
Deluxe control, freely programmable with large graphic display to show all important operating parameters, such as timing of the UV sensor signal (trend line), control type, operating status.
Interfaces and connectors for:

Stopcock and flushing valve
Control of the feed pump
Warning and alarm relay for UV intensity
Collective malfunction alert relay
Pause contact
Relay for monitoring reactor temperature
Input for external fault
Standard signal output 4-20 mA of UV sensor signal