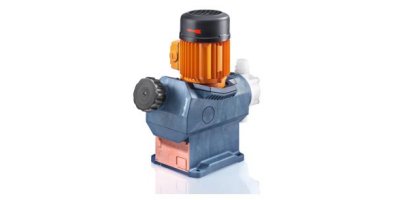 From Metering Pumps - Motor-Driven Metering Pumps
Capacity range 8 – 76 l/h, 10 – 4 bar. The motor-driven metering pump Vario C delivers a high level of process quality for continuous metering within simple metering tasks. It can be used, for example, in the metering of additives or flocculants in chemical metering.
The basic pump for simple applications
With four gear reduction ratios, two dosing head sizes and four dosing head materials, the motor driven metering pump Vario C is well adapted to basic metering tasks. It is available with a 3-phase or 1-phase AC motor. Its pump capacity is adjusted via the stroke length, in 1% increments, with a self-locking rotary dial.
Excellent suction capacity, gentle metering stroke and consistently precise metering
Excellent process quality: Metering reproducibility is better than ± 2% within the stroke length adjustment range of 30 to 100%
Flexible adjustment of the pump capacity by means of the stroke length in 1% increments
Fibreglass-reinforced plastic housing
Good adaptation to the specific application, thanks to 4 different gear reduction ratios and 2 sizes of liquid ends in 4 material designs
Power end optionally available with three-phase or single-phase AC motor
Technical details
Stroke length: 3 mm
Stroke length adjustment range: 30 – 100%
Stroke length adjustment: manually by means of self-locking rotary dial
Metering reproducibility is better than ± 2% in the 30 – 100% stroke length adjustment range under defined conditions and with correct installation
Wetted materials: PP, PVC, PVDF, stainless steel 1.4571/1.4404
PTFE diaphragm
Motor: Three-phase AC motor (0.07 KW, 230/400 V, 50/60 Hz) or single-phase AC motor (0.06 kW, 230 V 50 Hz or 115 V 60 Hz)
Degree of protection: IP 55
Fibreglass-reinforced plastic housing
Provide suitable overload protection in all motor-driven metering pumps during installation for safety reasons.
Reviews disabled
Reviews have been disabled for ProMinent - Model Vario C - Motor-Driven Metering Pump.