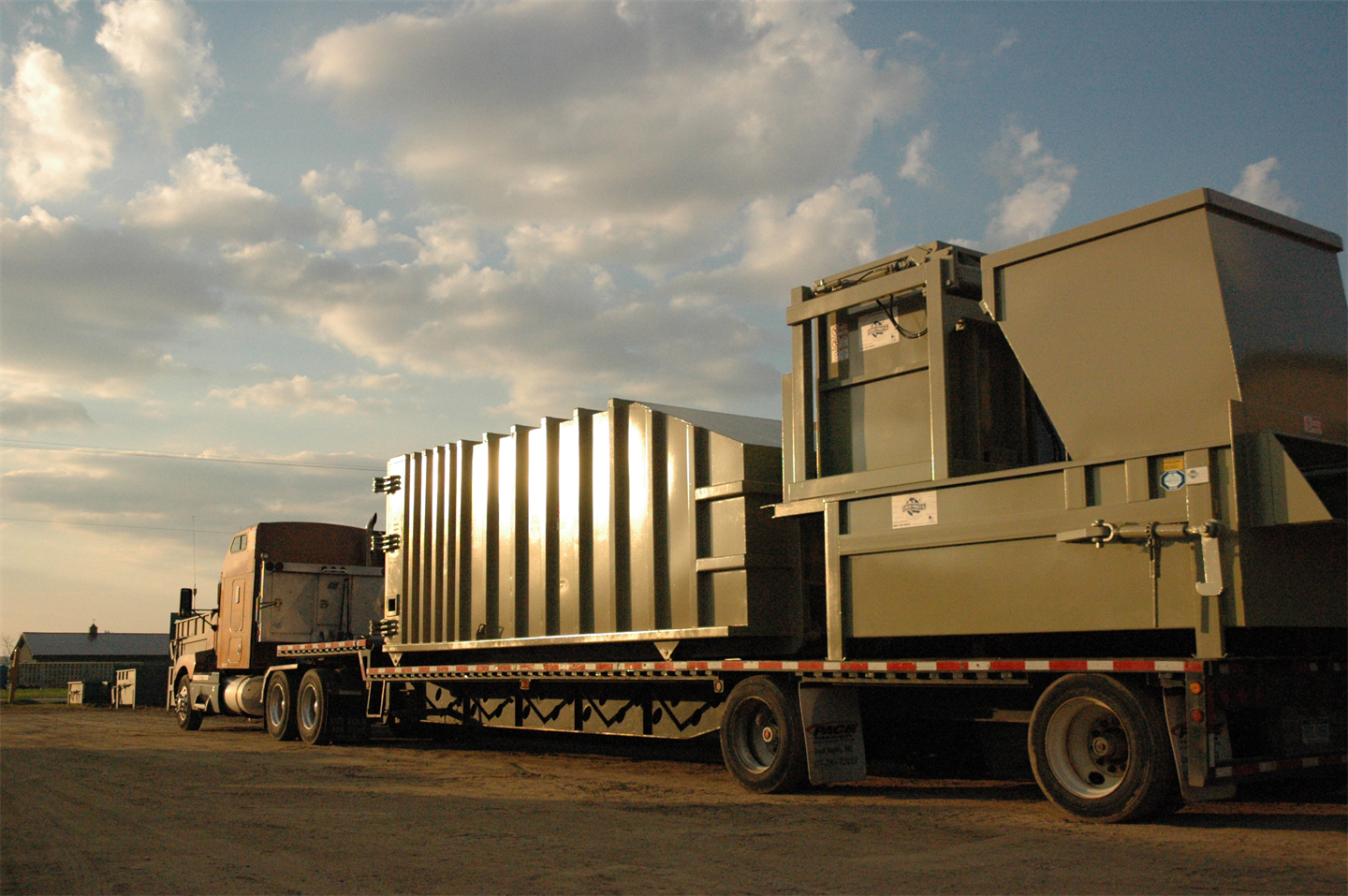 From Transfer Station Compactors
This mini transfer station compactor was designed to pack into semi-trailers for maximum loads and reduced transportation. The Sebright Model 9884T has a 50 HP motor and twin 6" cylinders for resulting maximum pressures of 101,772 lbs, and is engineered with extreme use in mind and will reduce downtime, lower maintenance, lower operating costs, saving you time and money.
Most popular related searches
Mini Transfer Station with Container and Compactor in Position - ready for Action!
A successful Transfer Station starts with the right equipment. Only the "Compactor People" can offer you a High Performance Machine built to take the demands of such an application.
Dependability means...
Lower Maintenance
Less Down-Time
Lower Operating Costs
Common Applications: Municipal and commercial transfer stations, recycling facilities.
Designed For: Transfer Station applications.
Model: 9884-T
Factory Rating: 8.0 cu. yd.
N.S.WM.A. Rating: 5.30 cu. yd.
Motor HP @ 1725 RPM: 50 HP
Pump GPM@ 1725 RPM: 63.1 GPM
Reservoir Capacity: 200 U.S. Gallons
Number of Hydraulic Cylinders: 2
Hydraulic Cylinder Stroke: 116 inches
Hydraulics Cylinder Bore Diameter: 6 inches
Hydraulic Cylinder Rod Diameter: 4.5 inches
Normal PSI: 1500 PSI
Maximum PSI: 1800 PSI
Normal Ram Force: 84.810 lbs.
Maximum Ram Force: 101,772 lbs.
Ram Face Dimensions: 31.5 in. Hx84in. W
Ram Face Area: 2,646 square inches
Normal Ram Face PSI: 32 PSI
Maximum Ram Face PSI: 38.5 PSI
Normal Cycle Time: 42 seconds
Cubic Yards/hr. (Ind. Criteria): 343.6 cu. yds/hr
Header Bar above Ram: 10 inches
Discharge Opening: 44 in. Hx85in. W
Ram Penetration: 20 inches
Clear Top Opening: 80 in. Wx90 in. L
Top Opening: 84 in. Wx98in. L
Overall Height: 67 inches