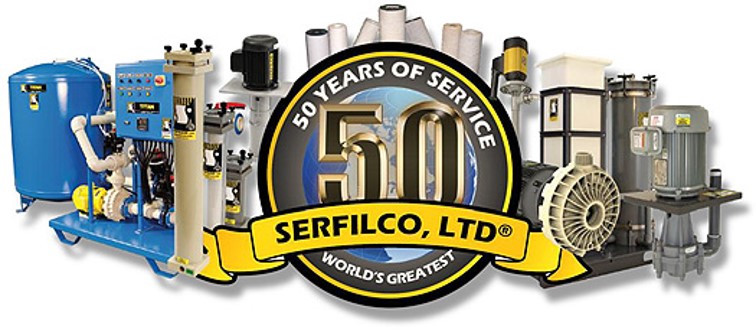 Automatic, Permanent media, High flow systems
Produces sparkling clean solutions
Automatic, microprocessor controlled
Permanent media
High flows - 50 to 500 gpm
Corrosion resistant - PVC or CPVC
CE Conforming
Dramatically reduces media and disposal costs.
Improves finished goods and process quality, significantly increases yields, practically eliminates scrap and rework.
Reduces chemical consumption by maintaining solution quality.
Minimizes solution maintenance with high flow, continuous particle removal.
Satisfy regulatory requirements by polishing clarifier overflow.
Unique to any other filtration system available, the TITAN series is the result of SERFILCO's ongoing commitment to developing 'up flow' and 'down flow' permanent media filtration technology. The combination of high flow permanent media, automatic operation and proven success makes the SERFILCO TITAN superior to any other filter available. Easy to install and operate, manufactured with high quality corrosion resistant materials, TITAN systems will provide years of trouble-free operation.
Hundreds of customers around the world have achieved dramatic improvement in quality while reducing costs using the automatic permanent media TITAN. The SERFILCO TITAN is a series of automatic backwash systems which use permanent filter media of a specific size, shape and density that creates a filter bed through which contaminated solution is fed at controlled limits of flow and pressure.
Microprocessor control automatically maintains constant design flow without compacting particles onto the media bed. The automatic cycle, programmed for optimum use of backwash fluid, responds automatically to a preset minimum flow rate. Prior to the automatic backwash cycle, process solutions are purged from the system with low pressure air. During the backwash cycle, particles exit the chamber without media migration. The process occurs within minutes, resulting in an extremely efficient backwash for each filter cycle. Re-establishment of the filtration cycle returns the system to design flow.
TITAN systems are specifically designed for use with most aqueous process solutions including cleaners, plating and other metal finishing solutions, and treated final effluents. Each TITAN system incorporates a corrosion resistant filter chamber for use with permanent media and has electrically actuated valves, an efficient centrifugal pump, a digital electronic flow meter, pre-wired control panel and pre-programmed PLC. Automatic control components are housed in a NEMA 12 enclosure, factory wired and test cycled for all microprocessor programs.
Cleaner models have a steel chamber, piping and valves and a cast iron single seal pump. Metal finishing models have PVC lined or hard rubber lined steel chambers with PVC piping and valves. Models designated ALK have single seal cast iron pumps; models designated AC have double seal CPVC pumps. Treated waste models have PVC lined steel chambers with PVC piping and valves.
Models W-50, W-100, W-150 have double seal CPVC pumps. Models W-200 and larger have single seal cast iron pumps. All units are skid-mounted, though large sizes have the chamber located separately. External metallic surfaces are painted with two coats of a two-part epoxy enamel. All fasteners are SS. Prior to shipment, all units are wet tested to insure piping integrity, flow rate and complete system operation. Media is purchased and shipped separately.