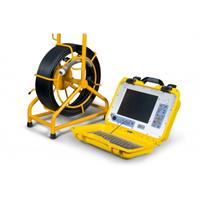 From Pipe Cameras - Drain Cameras
The Drain Scope inspection camera is a specially designed device used to inspect narrow diameter pipes with tight bends. These strong, durable, Canadian made units feature a 1.23" diameter straight view camera head, with a 200 foot long push cable, and a 12" color LCD monitor. The monitor can come with an optional WIFI module to view/capture the live image on a tablet or smart phone, for easy on site documentation. The TRITON line DrainScope system is perfectly suited for quick and easy inspections of sewer, pool, and duct lines.

The miniature 1.36" color camera head is extremely flexible, and specially designed to navigate 90 degree bends in 1.5" pipes. Illumination comes from 12 high intensity LEDs, and the camera chip is very light sensitive offering high-quality, crisp images in pipes up to 4". The camera head is stainless steel with a scratch resistant sapphire glass lens, and a sleek design with a specialized plastic skid that is very durable with no sharp edges making it highly manoeuvrable, easy to clean, and insuring that will not get stuck or caught when removing it. This skid centers the camera, making easier to push down narrow pipes or over rough surfaces. The camera head is completely waterproof to IP68. An integrated 512 Hz sonde is also built in to the camera head, making it easy to locate with a detection wand.
The push cable is 0.38" in diameter, 200 feet long and more flexible than the other models we offer, yet strong enough to be pushed out the full length. It is made of a highly resistant material and will be extremely durable for everyday applications and use.
The monitor is a 12", day-light readable, LCD screen with a USB port to connect a USB thumbstick, hard drive, or ipod to capture images, video, and audio files via the built in microphone. There is an optional WIFI module available to display the live image on a tablet or smartphone, with image and video capture directly onto the device. Additional features include a rechargeable battery, with 2 hours of portable use, an on-screen foot counter, video output to a separate monitor, up to 16 pages of text for captured files, and an 8x digital zoom. Optional skids are available to allow the camera head to roll down larger pipes, as is a locator to detect the camera head underground or behind walls.
The Drain Scope push camera is a great choice to inspect pipes from 1.5" up to 4". It is built using the same durable materials as other the TRITON line's sytems, but offers much more flexibility thanks to the specially design camera head, spring, and cable configuration.

Ideal to Inspect Pool, Drain and Sewer Pipes
200 feet of Premium .400 push Rod
512hz Sonde
2.0" P-Traps and Up
90 Degree Turn in 1.5' Pipe
Audio and Video Out Jacks
12' Daylight Readable Monitor
Weather Sealed Keyboard
Record to USB Drive
Text Writing with Memory Saves
Footage Counter
Adjustable Lighting Controls
Voice Over Recording (Built In)
Low Battery Alarm
What's Included
Monitor with rechargable battery in peli case, Patch cable, Push rod with camera head and built-in 512Hz sonde on reel, Mounting bracket , Manual.
Camera
Camera Head: 1.36' diameter - Straight View
Min pipe diameter 1.5'
Max pipe diameter 4'
1.5' P-trap in plastic pipes
Electrical transfer 6 pole slip ring
Waterproof IP68
Housing: Stainless steel
Sensitivity 0.5 lux @ F2.0 68 deg
Resolution: 470 lines. 720x480 NTSC
Camera Sensor: 1/4 color CCD
Auto Iris
3.6mm lens
Standard 512Hz inline sonde
Adjustable LEDs Illumination
Push Rod and Reel:
Housing: Powder coated steel tube frame
Push rod Length and Diameter: 200 ft .400'diameter
Weight with 200ft rod 35 LBS
Braiding Material: Kevlar
Controller:
Housing ABS plastic case (yellow)
Mountable on reel
Standard Splash Proof Keyboard
Std 2 hour internal battery
Std Meter and Footage counter
USB recording MPEG4
RCA video/audio out
Monitor LCD 12' daylight readable
512Hz sonde transmitter
8 X zoom
Adjustable lighting