Live Measurement Data Acquisition System (LiMeDAS) is a powerful and robust software application package designed to collect, store, display and report industrial process-related data from a variety of sources. LiMeDAS is a highly customizable solution that can be easily extended to monitor virtually any process be it a gas analyzer measuring effluent emissions, a custody transfer gas flowmeter, or a fire alarm sensor.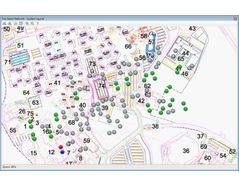 Our software is designed to monitor various processes on an intermittent or continuous basis. We have a range of off-the-shelf solutions to help with data collection, visualization, analysis and reporting for most common applications where industrial process monitoring is involved. The collected process data from each source is permanently stored in the corresponding database. The central server will allow the user to view the data individually or compare it side by side.
The application is available in multiple languages and is regional settings friendly.
Distributed architecture allows monitoring data sources from multiple Network locations.
There is no pre-defined user interface. Users are able to have their own data displays.
User authentication and security is based on Windows User Management. LiMeDAS keeps all data safe and secure and provides custom user access levels.
Powerful reporting engine is designed to support multiple languages and is fully customizable.
Robust and scalable client-server architecture allows simultaneous client access from Desktop and Mobile clients.