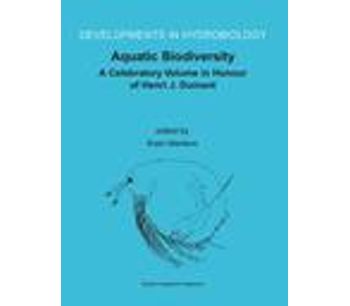 In this age of increased fundamental and applied research on biodiversity, no single volume was as yet devoted to the various temporal and spatial aspects of aquatic biodiversity. The present book is published in honour of Professor Henri Dumont (Ghent, Belgium) at the occasion of his retirement as Editor-in-Chief of Hydrobiologia. The volume presents a selection of contributions on aquatic biodiversity, written by colleagues from the editorial board, fellow editors of aquatic journals and former students and collaborators. Contributions deal with a wide spectrum of topics related to aquatic biodiversity and cover fields such as actual- and palaeolimnology, taxonomy, and fundamental and applied limnology. Even reconnaissance chapters on management and cultural impact of water bodies are included. The book combines state-of-the-art contributions in aquatic sciences.
Authors / Editors:

Koen Martens

Price:

149.00 USD; 123.00 EUR; 91.00 GBP

Print ISSN:

978-1-4020-1523-6

Launch:

1900
-----------------------------------------------------------------------
Register here for the Springer e-mail newsletter providing you with information on the latest products in your field.