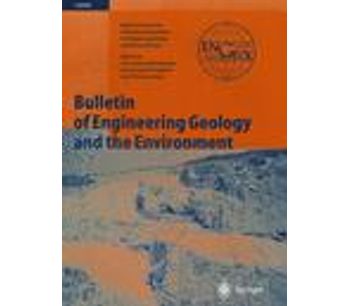 Bulletin of Engineering Geology and the Environment
Engineering geology, is defined in the statutes of the IAEG as the science devoted to the investigation, study and solution of engineering and environmental problems which may arise as the result of the interaction between geology and the works or activities of man, as well as of the prediction of and development of measures for the prevention or remediation of geological hazards.
Aims and Scope
Engineering geology embraces:
the definition of the geomorphology, structure, stratigraphy, lithology and ground water conditions of geological formations;
the characterisation of the mineralogical, physico-geomechanical, chemical and hydraulic properties of all earth materials involved in construction, resource recovery and environmental change;
the assessment of the mechanical and hydrological behaviour of soil and rock masses;
the prediction of changes to the above properties with time;
the determination of the parameters to be considered in the stability analysis of engineering works and earth masses;
the improvement and maintenance of the environmental condition and properties of the terrain.
The aims of the International Association for Engineering Geology and the Environment are:
to promote and encourage the advancement of engineering geology through technological activities and research;
to improve teaching and training in engineering geology;
to collect, evaluate and disseminate the results of engineering geological activities on a world wide basis.
These aims are pursued by:
encouraging the formation of national groups of engineering geologists and their affiliation with the Association;
the organisation of congresses, symposia and other meetings;
the creation and operation of specialist commissions and other organisational units for the study of matters of interest to the Association;
the publication of the scientific and technical achievements of members of the IAEG in the IAEG`s own periodical and relevant news in the IAEG newsletter;
interacting with other scientific and technical associations as may be appropriate.
Editor
Editor-in-Chief:
A. B. HAWKINS
Charlotte House
22 Charlotte Street
Bristol BS 5PZ
United Kingdom
Tel: +44 117 92 51 880
Fax: +44 117 92 73 994
e-mail: brian_hawkins@btconnect.com
SpringerOnline Journals Archives
Bringing Yesterday's Masters to Today's Minds
Springer expands the realm of scientific research through the Online Journals Archive package. Scientists and researchers can access over a century of scientific evolution and complete historical information. Springer has created a comprehensive body of scientific, medical and technical research documentation accessible to scientists, researchers and other professionals. We will offer approximately 1,200 journals starting in 2005 by adding all content formerly published by Kluwer, as well as, all content from Volume I, Issue 1, where available, from both the former Springer-Verlag and Kluwer.
Articles Available Pay per View
No online subscription? Access to your article of choice is just steps away.
SpringerOnline now provides you with the option to view individual articles even if you do not have access to a full online subscription. Pay-per-view allows you to access and download the article(s) of your choice for a minimal charge.