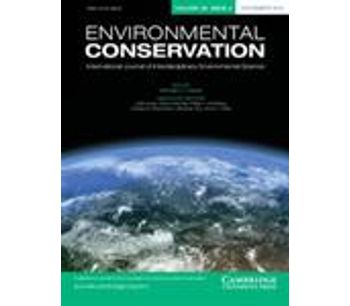 Environmental Conservation is one of the longest-standing, most highly cited of the comprehensive interdisciplinary environmental science journals. It includes research papers, comments, subject reviews, and book reviews addressing environmental policy, practice, and natural and social science of environmental concern at a global level.
Introduction
The journal`s scope is very broad, including issues in human institutions, pollution and habitat degradation, resource exploitation, terrestrial biomes, atmospheric and oceanic processes, and coastal and land management. Environmental Conservation is essential reading for all environmentalists, managers, consultants, agency workers and scientists wishing to keep abreast of current developments in environmental science.
Online manuscript submission available, please go to http://mc.manuscriptcentral.com/envcon
Sign-up for free table-of-conents alerts here.
Read sample content here.
Published for the Foundation for Environmental Conservation
Editorial Board
Editor
Professor Nicholas V. C. Polunin
Department of Marine Sciences & Coastal Management
Ridley Building
University of Newcastle
Newcastle upon Tyne NE1 7RU
envcons@ncl.ac.uk

Associate Editor
Dr Daniel Brockington
School of Environment and Development, University of Manchester, UK

Professor John Innes
Department of Forest Resources Management, The University of British Columbia , Canada

Dr Aaron Macneil
Australian Institute of Marine Sciences, Townsville, Australia

Dr William J. McShea
Smithsonian Conservation Biology Institute, USA

Dr Andrew Reeson
CSIRO Ecosystem Sciences, Australia
Environmental economics

Professor Charlie M. Shackleton
Rhodes University, South Africa

Dr Bhaskar Vira
Department of Geography, UK

Dr Edward Webb
National University of Singapore, Singapore
Plant ecology; Tropical forest conservation

Dr Trevor J. Willis
Institute of Marine Sciences, UK

Advisory Editors
Dr Carl S. Folke
Beijer International Institute of Ecological Economics, Sweden

Dr Paul Jepson
University of Oxford, United Kingdom

Dr Gary Kofinas
Alaska, USA

Professor William F. Laurance
James Cook University, Australia

Dr Timothy R. McClanahan
The Wildlife Conservation Society, Kenya

Professor Herbert H. T. Prins
Wageningen University, The Netherlands

Professor Garry W. Trompf
University of Sydney, Australia

Dr Philip H. Warren
University of Sheffield, United Kingdom

Editorial Assistant
Dr Alison Bentley
University of Newcastle, UK