Compromised Slopes and Erosion Control Services
Vetiver is a proven solution to compromised slopes and erosion. Installed in horizontal rows on the slope contour, Vetiver is a strong, effective, natural barrier. Its stiff, densely-grouped leaves slow the speed of water and trap soil, sediment, and debris that would otherwise slide off the slope. Its dense, fibrous roots anchor the soil, hold in moisture, and conserve topsoil and plant nutrients that otherwise would be swept away. Used worldwide to prevent landslides and erosion, Vetiver retaining walls are effective, economical, and environmentally appealing.
Most popular related searches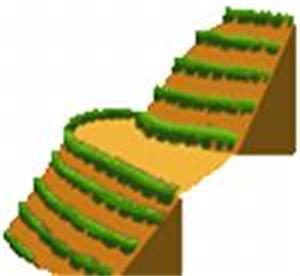 The term 'roots like steel' certainly applies to Vetiver! The average tensile strength of one root in Vetiver's massive root system equals one-sixth mild steel reinforcement (mPA 750), the same strength as Lexan, GE's tough plastic.
Vetiver roots improve the shear strength of soil by 30 to 40%, earning Vetiver its reputation as "the green nail." (Actually, the security of Vetiver more closely resembles that of a screw but, with a nod toward social propriety, let's just call it a nail.)
How does Vetiver compare to alternatives?
Engineers use a variety of methods to stabilize slopes and stop erosion. Some solutions are fixed, and others are organic. Some can be used together.
Conventional engineering uses rigid construction, including rock and reinforced concrete structures, sprayed-on concrete, gabions, steel gates, chain link, and fences. Fixed structures are brittle, expensive to install, and require costly repairs and maintenance. Often they're ineffective and unsustainable, not to mention unsightly.
Permanent vegetative barriers like Vetiver, on the other hand, provide an attractive, effective, and affordable alternative. Planted in rows on the contour, Vetiver's dense hedge and mass of fibrous roots create walls that halt the passage of topsoil and debris, and dramatically slow waterflow. By anchoring the soil and slowing rainwater velocity, Vetiver reduces rilling and gullying, prevents landslides, stabilizes steep slopes, and halts erosion.