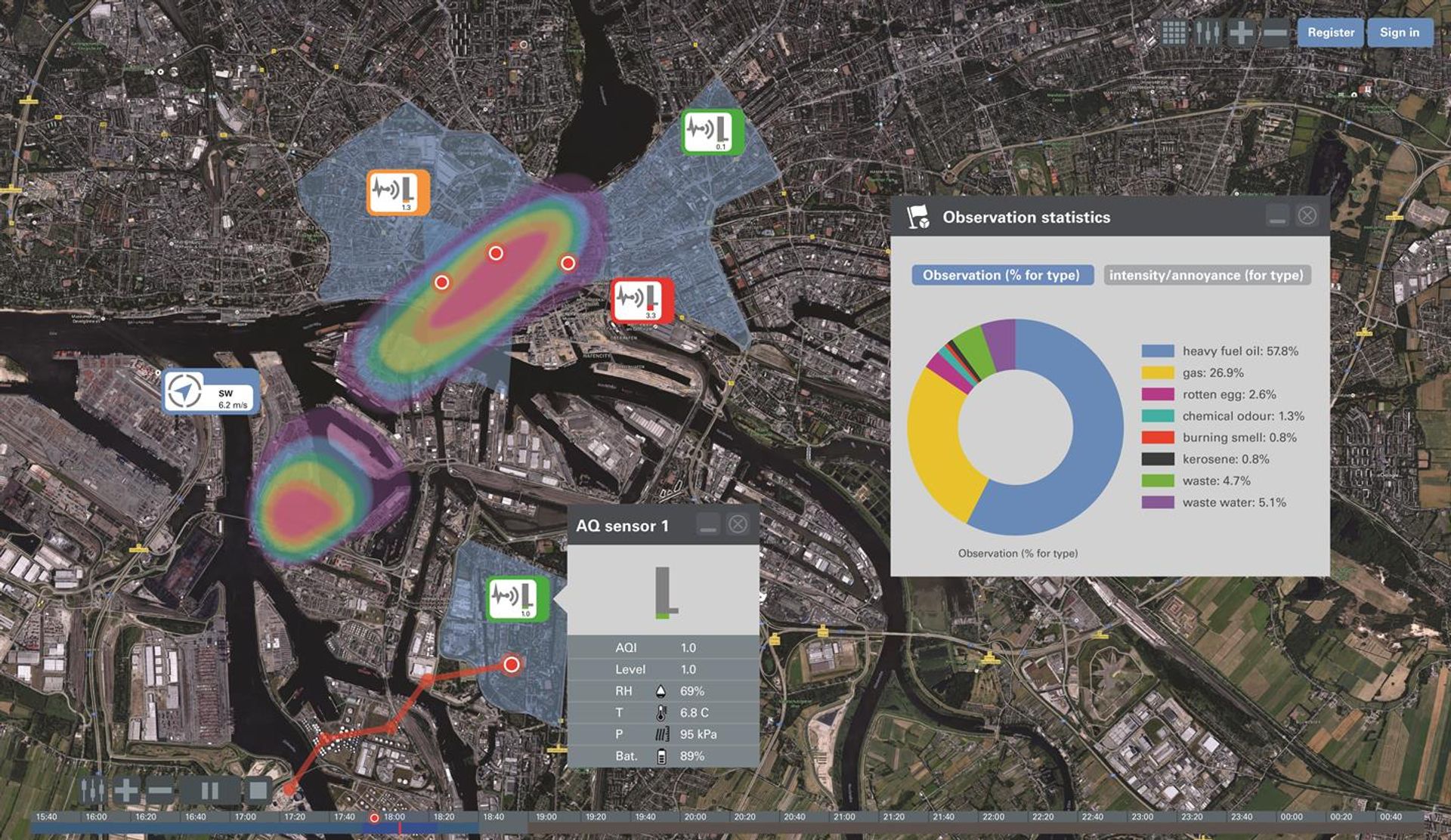 The Ortelium module for dispersion modelling & impact analysis combines weather data feeds with the odour emission data from your plant's odour sources. Calculating and dynamically visualizing the dispersion of your plant's emissions on a digital map, Ortelium provides you with retrospective analysis, real-time monitoring and forecasting capabilities to model and monitor the odour impact of your operations in past, current and future situations. This enables you not only to better understand and validate past incidents and their causes/origins. By forecasting possible impacts of your operations you can even take appropriate, proactive steps to avoid conflict situations, e.g. by finding the right window-of-opportunity to run odorous operations at times in which environmental impacts are minimized.
In the module you can manage multiple odour sources and their processed substances by defining key parameters such as substance concentrations (OU/m³), source height and heat capacity, volume flows of your installations, as well as terrain roughness. You can also add information on your installation's continuous and discontinuous processes by entering process schedules and process-specific parameters, for instance production capacities, start (and end) times.
By highlighting points or areas that are of special interest for your data monitoring (e.g.neighbouring residential areas, or other receptor points and areas) on the map, the module will instantly warn you if, and tell you how your site's sources might impact these areas under the current and forthcoming weather conditions. In addition, the Ortelium timeline colour-coding provides instant information on odour-critical operation times, allowing you to proactively initiate appropriate actions to avoid potential incidents.
The Ortelium module for dispersion modelling and impact analysis comes with a conventional GAUSSIAN dispersion model or, if required, more advanced dispersion models, such as, but not limited to CALPUFF, HYSPLIT and WRF. If you are unsure about which model is the most appropriate model for your usecase, our modelling experts will be happy to advise you on that decision.
In case your emission process is stable and controllable, Ortelium provides recommendations on how to adapt your process parameters (such as pumping speeds or ventilation rates) during these odour-critical operation times, to reduce or even prevent alert situations, while keeping your operations running most efficiently. This is particularly useful for industries that are at risk of being panelized with temporary working restrictions, fines or in the worst case permit withdrawal.