Channel Networks - Seepage Water Solution for Dump Seepage Water - Mining
Application: Pipe DN 200 made of HDPE. Part filled. Maximum discharge flow rate 1.5 l/s. Risk of formation of mineral deposits.
Most popular related searches
Detection of deposits from a groundwater well within a landfill site area for water balance detection
Accurate, long-term stable and low-maintenance measurement
Measurement shall be installed without major reconstruction measures in the proximity of an existing collector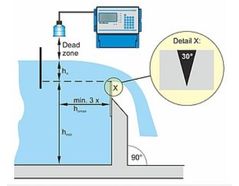 Due to low flow volumes it was necessary to use weir measurement according to Thomson (V weir).
The non-contact ultrasonic measurement system Type NivuMaster is used to detect overflow height.
Collector trough and weir opening have been constructed to obtain the best possible accuracy.
Maintenance shall be reduced to regular visual inspections and occasional removal of incrustation building up.
Easy adaption to possible higher flow rates through exchangeable weir plates featuring greater angles.