ACT Industrial Pty Ltd.
ACT Industrial is an Australian steel fabrication company with our head office in the industrial area of Kwinana, Western Australia, branches in most States of Australia and contract with a large factory in China where all structural steel fabrication is in accordance with world's best practices, including the requirements of AS4100 and EN12079 for our offshore rated bins. Our main areas of focus are the design and manufacture of pre-fabricated industrial steel structures and steel bins for industrial, commercial, mining, waste and rural industries. Talk to us if you also have other steel fabrication requirements. We also have available at sell out prices from our Kwinana premises, stock of 4mm, 8mm, 10mm and 12mm steel plate. We have steel fabrication workshops in Western Australia, Queensland, Victoria and are committed to having the very best in technology and systems in place.
Company details
1 Butcher Street
,
Kwinana
,
WA
6167
Australia
Business Type:

Manufacturer

Industry Type:

Market Focus:

Internationally (various countries)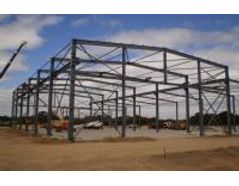 ACT Industrial specialises in manufacturing high quality, high strength pre-fabricated steel sheds, factories, warehouses, workshops and other steel structures. We also focus on the manufacture of steel bins for the waste, mining and other industries including offshore rated bins.

No matter the size of your project, we can supply the perfect steel solution, on time and on budget.

ACT Industrial have a team of dedicated and highly trained Engineers and welders and through the integration of modern manufacturing systems and using the latest innovations in ultra-sound testing technology we ensure the quality of our welding and workmanship to provide quality assurance for our clients.
All our prefabricated steel structures and steel bins are fully designed by our certified Australian Engineers for Australian conditions in accordance with Australian standards.
ACT Industrial is dedicated to providing easy to erect, strong, safe and cost effective industrial structure solutions for our clients needs anywhere in Australia and New Zealand including cyclone C and D rated areas.
All our pre-fabricated steel buildings are constructed using universal columns and beams to give you decades of service. We can supply your total steel structure requirements including mezzanine floors and offices.
Our pre-fabricated steel structures come pre-drilled with cleats welded in place and holes in the correct locations for fast and easy erection. No welding or cutting on-site is normally required.
Our steel bins are designed to take a beating and will stand the test of time. We have a large and diverse range of stock at our Kwinana depot ranging from 1.5m3 to 4.5m3 Front Lift Bins. 1m3 to 12m3 Skip and Marrel bins (most models also available with doors) and 6m3 to 40m3 hook-lift bins and roll on roll off bins. All our scrap metal bins are heavily reinforced for additional strength. Our bins for offshore use are designed and fabricated in accordance with Australian Standards EN 12079. We also manufacture steel bins for your special projects or designs. We can also save you even more money by supplying your bin requirements flat packed with components welded in place and shipped in sea containers ready for assembly by you (minimum qtys apply).
ACT Industrial is committed to providing quality and value for money for our clients. Whether your requirements are for a steel building as small as 400m2 or in excess of 30,000m2 or for high strength steel bins we can manufacture it with quality, on time and save you money.