Welcome to Javeler Marine Services LLC – innovative leaders in specialized dredging solutions. A specialized dredging service company of 44 years that has provided proven subsea excavation solutions with our fleet of submersible dredge pumps, in the environmental, civil and energy markets. Our track record as the front-runners in subsea trenching and suction excavation was built on safety, reliability, cost effective results and world class customer service.
Company details
Business Type:

Manufacturer

Industry Type:

Water and Wastewater - Pumps & Pumping

Market Focus:

Nationally (across the country)
Javeler Marine Services LLC is a specialized dredging service company that has been moving the earth for over 40 years. With in-house engineering and fabrication capability, Javeler is able to modify submersible dredge pumps and provide custom design solutions to suit your dredging, excavation and jetting needs. Javeler strives to offer safe, reasonably priced, and environmentally responsible service in subsea excavation, dredging, mitigation, and coastal restoration.
24 Hour Support:
Javeler is committed to providing exceptional customer service. Our experienced and knowledgeable team gladly accepts the opportunity to assist you 24 hours a day. Our centrally located New Iberia, LA operations headquarters enables quick response to the entire Gulf Coast.
Field Personnel:
Our team of qualified field technicians provides expertise in equipment layout, dredging support, equipment maintenance/repair, and daily reporting to ensure optimal productivity and, most importantly, a safe operating environment. Every field technician is TWIC, SafeGulf, HUET, CPR and Rigging certified.
Mission

To provide solutions to benefit our customers and family's. Through a quality of Service that is incomparable.

Vision

To complete our days of Service with positive acknowledgement from our peers. "We played like little Brothers"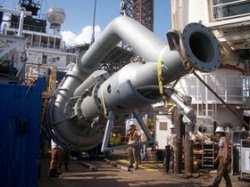 'Providing Innovative Dredging Solutions for over 40 years"
Javeler was founded in 1968, primarily operating in the Southeast region of the USA as an excavation construction company. Throughout the late 1960s and into the early 1980s, Javeler utilized large draglines for excavation projects in Florida, Georgia, Mississippi, Louisiana, and Texas.

In 1983, Javeler became the first company in the USA to incorporate the TOYO submersible dredge pump in commercial dredging. The TOYO pump was used by Javeler to construct Island Moorings, a marina and waterfront residential development near Port Aransas, Texas on Padre Island. The success at Island Moorings as well as Padre Isles and Pelican Cove sparked instant growth, as Javeler remained determined to prove the effectiveness of utilizing a dredge pump with such versatility and cost saving portability. Javeler would soon introduce this revolutionary form of dredging to engineering firms, contractors, private land owners, and government officials who sought economical solutions for harbor/dock dredging, hazardous waste removal, wetland restoration, marsh creation, cofferdam excavation, and many other forms of environmental dredging and remediation.

Our proven track record in the commercial construction and civil sectors later led our expansion of services into the Gulf of Mexico in 2005. We began providing full service subsea excavation solutions to oil and gas operators, dive contractors, marine salvage and offshore construction contractors. To this day, these services include (but are not limited to) the following: excavation for platform abandonment, plug and abandonment, pipeline trenching (burial and retrieval), marine salvage, internal/external pile excavation, and jack-up rig leg recovery.

Javeler is equipped with many years of experience, an extensive fleet of electric and hydraulic powered submersible dredge pumps, marine dredging equipment, and most importantly a team of innovative experts. Team Javeler welcomes the opportunity to provide you with an environmentally safe and effective dredging solution coupled with world-class customer service anytime you need.