Sag Harbor Industries is a contract manufacturer of custom wound electric coils, wire harnesses and electronic assemblies for OEM customers. Our products have been included throughout the entire aerospace and electronic fields. Our products have also been used in an extensive amount of military applications as well as many government contracts. Items manufactured in our Sag Harbor, NY and Farmville, NC facilities include; electrical coils, motor windings, solenoids, stators, and voice coils for headsets. Our automated PCB (printed circuit board) department completely assembles for both "through-hole" and "surface mount" circuit board technologies.
Company details
1668 Sag Harbor Turnpike
,
Sag Harbor
,
NY
11963
USA
Business Type:

Manufacturer

Industry Type:

Manufacturing, Other

Market Focus:

Nationally (across the country)

Year Founded:

1946

Employees:

101-1000
This company also provides solutions for other industrial applications.
Please, visit the following links for more info:
Serving the electromechanical, electromagnetic, and electronic industries since 1946. Our multiple U.S. manufacturing locations are equipped with state of art automated and semi-automated equipment. We are geared to produce high volume, medium volume and short run production in the most economical and efficient manner.

Thomas Edison's son Charles, founded Sag Harbor Industries in 1946 with one goal in mind: to manufacture electrical coils and inductors of superior quality. For over 65 years, we have accomplished that goal, by delivering:
Unmatched Customer Service
Consistently High Quality Products
Continuous Quality Improvement
Engineering & Design Competence
Flexible Supply Chain Management
On Time Delivery
As a 100% Made in USA manufacturer, we take pride in providing our customers, products with unequalled quality, rapid and on time production coupled with manufacturing flexibility. We pride ourselves on quality and produce some of the best electric coils that the industry has to offer. Sag Harbor Industries' engineers work hard in understanding the applications of our clients in order to better ensure that the products we make go above and beyond their expectations whether it be an inductor, electric coil or solenoid coil, you can rest assured that the products you get from Sag Harbor Industries (SHI) meet and exceed your expectations.
Charles Edison, son of inventor Thomas Alva Edison, was a very accomplished man. He was born on August 3, 1890 in West Orange, New Jersey. By 1927 he was president of his father's company, Thomas A. Edison Inc. He served as the Assistant Secretary of the Navy from 1937 to 1940, Secretary of the U.S. Navy in 1940 he served as the 42nd Governor of New Jersey from 1941 to 1944.
In 1946, two years after his term as Governor of New Jersey ended, Charles Edison created Sag Harbor Industries in Sag Harbor, New York. He had a clear vision for our company. Edison believed that a smaller, localized manufacturer could be more productive than a larger one with a central location. He believed that a smaller operation could react quicker to adversity than a larger plant with several thousand employees.
Our very first products were small electric coils which were used in automobile clocks and appliances. Soon after that, a division of Thomas A. Edison Inc. bought a large quantity of coils for their office dictation equipment.
By 1949, Sag Harbor Industries was so successful that an addition was needed for the building. The addition was larger than the original building. Some of our customers during this time were Jaeger-LeCoultre (luxury watch and clock manufacturer) and Lux Products Corporation (clock division).
Since that time, Sag Harbor Industries has undergone many changes but our core philosophy remains the same; American Made, custom coil windings and electrical components with a concentration on product quality and on time delivery.
Later Years…
Over time, Charles Edison took on two partners for Sag Harbor Industries, Paul Scheerer and Stuart Miller. As Edison began to turn his attention to other ventures, Scheerer and Miller took center stage at Sag Harbor. They began working with Teleregister. One of Teleregisters great achievements was engineering an automatic quotation board for the New York Stock Exchange (NYSE).
The quotation board made it possible for brokers to instantly display stock and commodity quotations from the previous day, the opening price for the current day, high for the day, low for the day, as well as current price. In the early 1950's, Teleregister also worked with American Airlines to engineer a new airline reservation system. Both the stock quotation board and the airline reservation system contained custom electric coils created by Sag Harbor Industries.
Around that same time, an electric football game was created by Tudor Metal Products of New York City. The game was played on a vibrating metal field with 3-D players, a grandstand showing hundreds of fans and goalposts at either end. The game was wildly successful. Tudor's success spawned a competitor, Gotham Pressed Steel. Both the Tudor as well as the Gotham football games utilized Sag Harbor Industries custom coils and they were both valued customers for many years.
The 1960's, 1970's and 1980's saw the rise of three very important industries critical to our growth as a company; fluid power, aerospace and computer technologies. The Valcor and Skinner companies both employed Sag Harbor Industries custom coils in their solenoid valves as well as in other applications.
We teamed with COM DEV International Ltd. to create satellite and spacecraft communications equipment. The equipment called for exacting specifications that must be met in order to operate within the harsh environment of outer space. Sag Harbor Industries produced stators to exact specifications for this application under our "clean room" conditions per COM DEV needs.
General Electric also partnered with Sag Harbor Industries. We built a large number of coils for GE, many of which would end up in relays for the GE Space Center but the majority of them would end up in GE's Computer Department.
General Electric was experiencing a period of rapid growth. The General Electric Computer Department was created as an effort to cope with this growth spurt. The major computer companies would come to be known as "Snow White and the Seven Dwarves" with IBM taking the role of Snow White and companies such as GE, Honeywell and RCA, to name a few, as the Seven Dwarves.
During the time of "Snow White and the Seven Dwarves", General Electric was one of Sag Harbor Industries biggest customers, with orders nearing 60,000 coils per week.
…And Today
Our subsidiary, Dortronics Systems Inc., located in Long Island, NY manufactures electric locking hardware and controls for the security and door control industries. We believe that the Sag Harbor Industries family of companies provides innovative solutions to our customer's high volume, mid volume and custom production needs. We are privileged to serve customers who place high priority on customer and value-added services.
Sag Harbor Industries is dedicated to a customer focused approach with value-added services and quality assurances. Our ISO 9001:2008 certification ensures that our customers receive the utmost in quality management.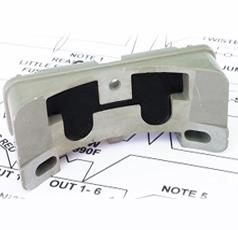 Harsh Environment Solutions
There is no one-size-fits-all answer to harsh environment situations. Our experience, knowledge base and the relationship we have with our suppliers allows us to offer exactly what our customers need for each and every situation. We work with our vendors to find the precise encapsulant for an application. If none exists, we work with our vendors to create one for you.
One such example was to create an epoxy highly filled with alumina to mold an encasement capable of precise heat dissipation requirements. Our engineers worked tirelessly with our vendors to create this special application epoxy and it was implemented flawlessly. This is just one example of our built-in value added services.
Engineering
Sag Harbor Industries offers a wide variety of electrical and magnetic components and assembly's as well as related support services. Most recently, we have added a design services and contract engineering department.
Charles Edison created Sag Harbor Industries with a clear vision; to supply the electromagnetic and coil winding industries with superior service, quality craftsmanship and the type of flexibility to handle our customers' needs as efficiently as possible. Since 1946, we have done just that.
Capacities
Our molding, potting, varnishing, vacuum impregnation and encapsulation capacities have served many industries and are found within many applications. To name a few:
Chemical immersion
Jet engine environment
High temperatures
Freezing temperatures
Radiation shielded sensors
Radiation beam corrector coils
Underwater, salt air and offshore
Downhole environmental challenges
Deep space communications
Anti-corrosive coatings
Tooling & Molding
We are a custom coil shop. We create high quality custom tooling completely in-house saving precious time, which in turn saves you money. By offering versatile, in-house tooling services, we are able to offer peak production efficiency with fast turnaround time at the lowest possible cost to our customers.
Our toolmakers have years of experience in automated and semi-automated machining, as well as manual machining. This cross training allows Sag Harbor Industries to offer our customers both the efficiency of computer assisted machining along with the ability to create custom, one-off tooling and parts.
Our in-house plastic injection molding facilities along with our tooling capabilities create a seamless transition from prototype, to preproduction, to volume production. Our toolmakers and engineering teams collaborate with our customers to create innovative solutions to your products most demanding requirements.
Clean Room Facilities
To match our customers' needs for a controlled, contamination free environment, we have built an on-site clean room. Contamination can come in various forms. Our temperature, humidity, air flow as well as air pressure controls ensure that we can meet or exceed customer expectations.
In the past our clean room facilities have been used for medical, deep space and communications industries, however we are always willing to retrofit our clean room for our customers' specific needs.
Services
We offer a variety of services to best match our customers' needs with our production capabilities. We offer:
Turnkey, kitted or labor-only services available upon request
Sub-assemblies to box builds and beyond
Prototype and product development
Engineering assistance; our engineers team with your engineers
Potting
Varnishing
Vacuum Impregnation
Encapsulation
Value-Added Services
Here at Sag Harbor Industries, we make every effort to provide our customers with not only top notch products but to also provide the type of customer support that makes us a customer service leader in our industry. A few of our value-added services are:
JIT/KanBan system options per customer preference. We will hold stock
RoHS compliance at your request
24 hour response time in replying to input
The products we make for you are totally proprietary,

never compromised
Personal and direct service; on-site communication
Teamwork from us to you with superior performance being the goal
Service Partnership
We have a vested interest in our customer's products. Our engineering staff works with you on new designs as well as cost reductions. Our facilities are equipped to handle pre-production as well as volume production.
With more than 65 years of experience behind us, Sag Harbor Industries has come to define excellence in product as well as in customer service. We invite you to take part in our service partnership where we are ready to assist you in the design, engineering and planning elements of your project at a moment's notice.
Made In America
Sag Harbor Industries is a conscientious manufacturer. We believe in putting some thought into how we spend our dollar. As such we have made the decision to keep each and every one of our facilities on home soil.
We believe that imported products can lead to inferior products. As a quality first company, the workmanship of our products is just as important as its price. The quality of American made products is second to none. Our customers can be assured that not only are Sag Harbor Industries products Assembled in America, they are also Made In USA, and we wear that distinction proudly.
At Sag Harbor Industries we believe that we need to spend our revenues wisely. We believe that one of the most responsible things we can do is to re-invest into the American workforce and the American economy.
Many of our competitors do not share our principals. They believe that the cheapest route is also the best, regardless of where their money may end up. We beg to differ.