Servi-Tech was organized in 1975 by three farmer-owned cooperatives to provide technical service for agricultural producers in southwest Kansas. In 1981, Servi-Tech expanded into northeast Colorado, then into Nebraska in 1983, and finally into Iowa in 2000. We currently provide consulting and laboratory service to the High Plains area that produces around 50 million acres of wheat, 30 million acres of corn, 7 million acres of grain sorghum, 2 million acres of alfalfa, 6 million acres of soybeans, 50,000 acres of sugar beets and a mix of dry beans, barley, oats, potatoes, millet, sunflowers, grasses and vegetable crops.
Company details
1816 E. Wyatt Earp Blvd.
,
Dodge City
,
Kansas
67801
USA
Business Type:

Laboratory

Industry Type:

Agriculture Monitoring and Testing

Market Focus:

Nationally (across the country)
Andrew Vrbka, one of Servi-Tech's technical support agronomists in Nebraska, has earned a national award for his crop consulting work.
He received the 2013 Consultant of the Year award from the National Alliance of Independent Crop Consultants. He received the award at NAICC's annual meeting in New Orleans. The award recognizes entrepreneurial spirit, creativity, innovation and community involvement by an agricultural consultant.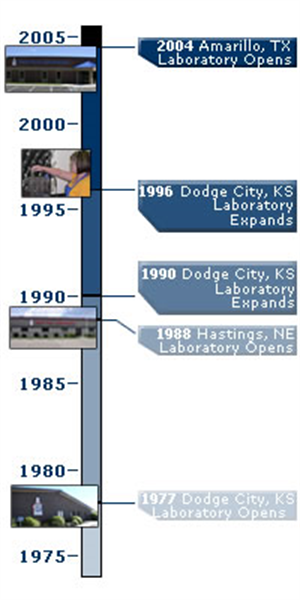 Servi-Tech operates three state-of-the art laboratories, centrally located in the heart of The Great Plains. The first laboratory was started in Dodge City, Kansas in 1977. The steady growth in sample volume resulted in building another laboratory in Hastings, Nebraska. The Hastings laboratory opened in November of 1988. Further growth required expansion of the Dodge City laboratory in 1990, and again in 1996. In 2004, Servi-Tech opened their third laboratory located in Amarillo, Texas. The network of laboratories allows Servi-Tech to provide accurate results, rapid turnaround time, and quality customer service.

Servi-Tech Laboratories can typically provide customers with analytical results on the next working day after the sample is received. The laboratories maintain an intensive quality control program. On the average, there is one quality control sample for every five to seven customer samples analyzed.

Servi-Tech has provided testing for many prestigious locations, including Mile High Stadium, Coors Field, Arrowhead Stadium, Baltimore Country Club, Congressional Country Club-Beltsville, MD, Ralph Lauren Estate, and center court at Wimbledon, England.
The professionals at Servi-Tech understand that analytical results received from the laboratory are used to make decisions that affect their customer's bottom line. Each individual sample is considered as an important part of a producer's total management process. Servi-Tech appreciates their customers' business.