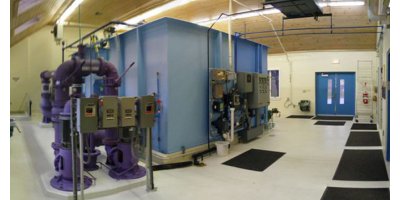 From Package Treatment Plants (Water)
Tri-Mite® Factory Assembled Packaged Water Treatment Plant. Microfloc® Tri-Mite technology offers significant advances in water and wastewater treatment at a lower capital outlay, in a smaller space and at a higher flow rate per unit area.
Tri-Mite PWTP provides you:
Buoyant media upflow Adsorption Clarifier™ system

Mixed media polishing filter

Five standard sizes from 50 – 350 gpm per unit

Small Footprint

Economical treatment of < 100 NTU or < 50 Color Units source waters

Fully factory assembled units
Surface water treatment for turbidity and color removal is the most common application. Tri-Mites® also are applied to iron, manganese and arsenic from groundwater supplies. Factory assembly and wiring of the units greatly reduce installation costs compared to conventional designs.

Large Installation Base: Since its introduction, more than 160 Tri-Mites® have been installed.
Pre-engineered
Fully factory assembled
Buoyant Media Clarifier
Two log removal credit of Cryptosporidium and Giardia, up to 3 log removal demonstrated in pilot studies.
Gravel-less underdrain system
Minimizes design costs
Minimizes installation costs
75-95% turbidity removal rates
Increases filter run time
Increased net production through raw water flush
Smaller footprint compared to applicable conventional equipment
Meets enhanced surface water treatment rules
Proven process through trials testing
Eliminates costly gravel upsets
Reviews disabled
Reviews have been disabled for WesTech Tri-Mite® - Package Water Treatment Plant.