Biomonitoring is measuring the condition and integrity of various sources of water to ensure the health and diversity of those sources. This can be accomplished by several methods. One of the most popular and effective methods is the observation and/or use of aquatic animals. Fish, mussels, and macroinvertebrates (aquatic insect larvae) are routinely used as indicators of water quality. This is due to the fact that these animals are continuously exposed to the water and the abundance, distribution, and diversity of these animals is indicative of the quality of water they live in. We study animals both in the lab (aquatic toxicity testing) and in the field (surveys or diagnostic studies). Some of the other important biomonitoring tools include lake and watershed management, diagnostic studies, restoration, and direct measurements of water quality parameters.

Our laboratory's primary focus is aquatic toxicity testing for municipal and industrial wastewater elimination systems. These systems must comply with Indiana and EPA regulations for point-source elimination of treated wastewater before being discharged into a waterbody.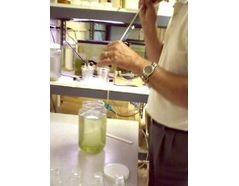 Biomonitoring has several distinct advantages over more traditional water quality and chemistry measurements
Potential effects of over 1,000,000 chemicals can be measured
Animals are continuously exposed to water, so they integrate effects over time (not just a snap-shot like most chemical monitoring)
Community responses can diagnose particular water quality problems (low oxygen, excessive nutrients, toxins, etc.)
Measurement costs are relatively low compared to most chemical analyses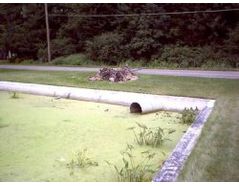 Indiana's waters are important for many uses including drinking water, municipal uses for a growing population, and a source for recreational activities. They are also home to a large variety of fish, mussels, insects, birds, and various other animals and plants, some of which are becoming increasingly rare. Although the Mid-West is heavily reliant on agriculture and development, we still continue to maintain a diverse assemblage of both plants and animals. This is due in part to environmental regulations but also from those who genuinely care about the quality of our waters be it a scientist, student, or a lover of the outdoors. So let's work together to keep our waters healthy so that we and our future generations can enjoy!