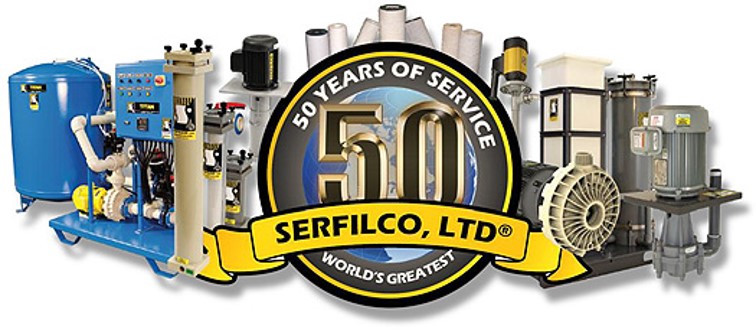 117 products found
Serfilco International Ltd Products
Pumps - Drum-Barrel-Tote

Complete product line of Drum Pumps and Manual Hand Dispensing pumps for fast, safe and convenient transfer and dispensing of liquids.For chemically aggressive liquids such as acids, alkalies and salt solutions as well as most solvents and organic ...

Pumps - Horizontal Pumps

Wide range of single or double mechanical seal End Suction Centrifugal Pumps constructed of engineering grade thermoplastics or metal. Designed to meet the most demanding requirements. Flow range from 5 - 2400 ...

Pumps - Vertical Pumps

Efficient range of industry proven vertical centrifugal pumps from 12" to 12" in length. Constructed of Engineeering Grade Thermoplastics or metal. SERFILCO DUTY motors, standard mounting plates allow easy installation. Flow range from 5-650 ...

Pumps - Magnetic Coupled Pumps

Complete product range including plastic or metallic End Suction Centrifugal magnetic coupled pumps. Wide choice of materials and flow ranges. Designed for the most challenging applications. Flow ranges from 3-330 ...

Pumps - Self-Priming

Electric motor driven centrifugal mechanical seal or magnetic coupled, or positive displacement air operated, available in wide range of plastic or metal construction, Flow ranges from 2-280 ...

Pumps - Air Operated Diaphragm Pumps

Material: Al, PVDF, PP, SS316, Nylon Performance: 1-150 ...

Pumps - Series AA,B& C Metering Pumps

Material: PP Performance: .006-25 GPH ...

Pumps - Pumping Station

Automatic self contained units designed for collection and transfer pumping of nearly any liquid. Available in a wide variety of construction materials. Flow range to 1000+ ...

Filter Chambers - Cartridge Chambers

Plastic or metalic construction, for use with 1-2600 cartridges. Flow range to over 12000 ...

Filter Chambers - Bag Chambers

Plastic or metallic constrution, for use with wide variety of bag media. Low psi drop. Operating pressures to ...

Filter Chambers - Disc Chambers

Plastic or metallic construction. Flow range to 350 ...

Filter Chambers - Carbon Chambers

Plastic construction 13 - 84 pound ...

Filter Chambers - Resin

Water purification, heavy metal removal / recovery, precious metal recovery. Plastic construction .15 - 15 cubic foot ...

Filtration Systems - Filtration System - Out of Tank

Self priming or flooded suction systems constructrd of Polypropylene, PVC, CPVC, PVDF, steel or stainless steel. Flow rates forom 200 to 21,000 gph with 3.5 to 455 s.f. of filter ...

Filtration Systems - Filtration System - In Tank

Eliminate solution loss due to external piping. Compact high flow filtration systems using SERFILCO industry leading in tank vertical pumps. Polypropylene, PVC, CPVC or PVDF, flow rates to 10,000 gph, with up to 84 s.f. filter ...

Filtration Systems - Automatic Permanent Media

The best filtration systems available for automatically maintaining crystall clear solutions, without having to replace filtration ...

Filtration Systems - Fabric Gravity Filtrations

Fully automatic disposable fabric gravity filtration system for use with processes having high sludge content. Available in epoxy coated carbon steel or 316 stainless steel. For use with process tanks from 200, to 40,000 ...

Filtration Systems - Bag Filtration Systems

Serfilco - Filtration Systems - Filter Press

Filtration Systems - Carbon and Resin Systems

Filtration Systems - Oil Filtration/Coalescing

Filtration Media - Depth Cartridge (Wound and Melt Blown)

SERFILCO offers a wide selection of filter cartridge styles, material selections and porosities to satisfy almost any filtration ...

Filtration Media - Pleated Filter Cartriges

POLYSERF pleated filter cartridges are manufactured of continuous PP microfibers.They provide large surface area for efficient particle removal with very low pressure ...