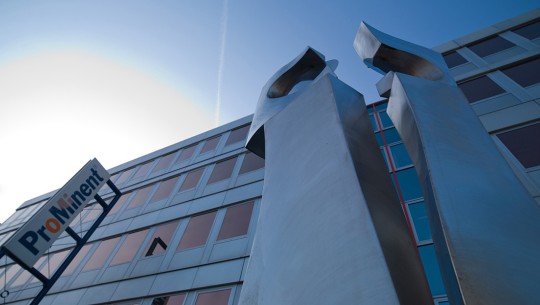 143 products found
ProMinent GmbH Products
Metering Pumps - Solenoid-Driven Metering Pumps

Solenoid-driven metering pumps are available in capacities ranging from 0.74 to 80 l/h at a back pressure of 25 to 2 bar. To be able to meter almost any liquid chemicals, ProMinent uses a very extensive range of materials.

Metering Pumps - Motor-Driven Metering Pumps

Motor-driven metering pumps need to be robust, reliable and able to run on their own without supervision. Metering pumps with mechanically actuated diaphragms can be used almost universally in low pressure ranges. And what about servicing? Minimal. Accuracy? Uncompromising. Value for money? The best.

Metering Pumps - Peristaltic Metering Pumps

Peristaltic metering pumps are used in a capacity range of between 10 ml/h and 410 l/h. They pump against a pressure of up to 8 bar. The incredible durability and wide-range of chemical compatibility of the high-performance tubes used by ProMinent, offer suitability to a vast range of chemicals and liquids.

Process Metering Pumps - Diaphragm Metering Pumps

Hermetically sealed metering units and resistant materials allow ProMinent diaphragm process metering pumps to convey aggressive media with ease. But that's not all. Maintenance-free and fault-free operation also depends on the quality of the diaphragm, which is why ProMinent always ensures that its products are equipped with extremely durable diaphragms.

Process Metering Pumps - Hydraulic Diaphragm Metering Pumps

High pressures are no problem in metering systems as long as there is something to counter them. ProMinent hydraulic diaphragm metering pumps therefore use a hydraulic fluid to create back pressure. You will soon notice the benefits for the diaphragm.

Process Metering Pumps - Plunger Metering Pumps

The heart of the liquid end in a plunger metering pump is a highly resistant piston made from coated stainless steel. As soon as the plunger is moved into the dosing head, the suction valve closes and the feed chemical flows out of the dosing head through a discharge valve. When the plunger moves in the opposite direction, the discharge valve closes due to the negative pressure in the dosing head. Fresh feed chemical flows through the suction valve into the dosing head.

Peristaltic Pumps

Peristaltic pumps DULCO®flex are amongst the most adaptable pumps from ProMinent. They are suitable for an enormously wide pump capacity range. The smaller DF2 to DF4 types of pumps have been specially designed for metering work in swimming pools, hot tubs or spa and wellness zones. The large peristaltic pumps DFA to DFD are ideal for specific tasks, as well as for extremely high pump capacities and pressures in laboratories and in industry. All models follow a simple op

Chemical Transfer Pumps

ProMinent chemical transfer pumps are used to pump liquids from container A to container B. The media may have a wide range of different chemical properties, so the pumps need different functional principles. ProMinent engineers work hard to make sure that liquid and pump are fully compatible. They approach every application with the same ProMinent standards of maximum diligence and quality.

Disinfection Systems and Oxidation Systems - UV Systems

UV radiation is a safe, chemical-free and reliable method of disinfection in modern water treatment. ProMinent Dulcodes® UV systems exploit the safety and reliability of UV disinfection in a wide range of applications. Scientific research and the many systems successfully in operation prove that UV is ideally suited to water disinfection.

Disinfection Systems and Oxidation Systems - Ozone Systems

ProMinent ozone systems are used for the treatment of potable water and waste water, water in the food and beverage industry, pool water, aquarium and pool water in zoos, and cooling and process water.

Disinfection Systems and Oxidation Systems - Chlorine Dioxide Systems

Long-lasting and highly effective, chlorine dioxide provides microbiological protection. ProMinent chlorine dioxide systems generate oxidants and disinfectants safely and efficiently in the place where they are needed.

Disinfection Systems and Oxidation Systems - Electrolysis Systems

Electrolysis is an economically sensible and technically perfected alternative to the dosing of sodium hypochlorite or other disinfectants. Chlorine, hydrogen and sodium hydroxide can be generated on site from harmless sodium chloride. The chlorine generated can either be dosed directly into the water as hypochlorous acid (HOCl) or temporarily stored with the sodium hydroxide generated as sodium hypochlorite (NaOCl).

Metering Systems - Metering Systems for Liquids

The standard metering systems DULCODOS are the result of years of application-based development at ProMinent. It's not necessary to reinvent the wheel every time. With ProMinent you can reduce your costs by choosing tried-and-tested complete solutions.

Metering Systems - Metering Systems for Chlorine Gas

In the metering system DULCO Vaq, chlorine gas is safely handled under a vacuum. The negative pressure generated in the injector opens the vacuum dosing regulator fitted on the chlorine gas tank and the chlorine gas enters the water to be treated. Adjustment valves control the metering volume and flow meters precisely indicate the chlorine gas flow. A large number of individual configurations is provided for by the use of additional components, such as motorised control valves, injectors or

Metering Systems - Metering Systems for Polymers

Removing solids from liquids demands the use of liquid or powder polymers. This is achieved with polymer batching and metering systems. The experts in waste water treatment at ProMinent understand how to provide the efficient technology to support this specialist application. For the most stringent requirements, they developed Ultromat metering systems. They are especially easy to install and operate.

Metering Systems - Metering Systems for Solids

More throughput, higher product quality. ProMinent supplies everything you need for metering and treating solids in your production process. We have cost-effective solutions even for problematic applications, for example substances with noticeable weight fluctuations or problems with bridging.